I am very happy to announce the release of Notepad Replacer 1.1.1! This new version fixes a few small compatibility issues, and improves overall stability. What is Notepad Replacer? Notepad Replacer is a tiny application will allow you to replace the default Windows version of Notepad with whatever alternative text editor you would like to use. It is fully compatible with a wide range of excellent text editors, including Notepad++ and Notepad2. Visit the download page to see the complete list of tested applications.
Advantages to using Notepad Replacer
Won't replace ANY system files, or change ANY file permissions
Won't trigger Windows File Protection warnings (WFP)
Won't run all the time, won't take up any system resources in the background
Doesn't require special support by the alternative application
How does this work?
Just download and run the Notepad Replacer setup file (below)
Follow the installation prompts, and browse to your replacement application
Done!
If you ever want to revert back to the default Windows Notepad, just un-install Notepad Replacer. Easy!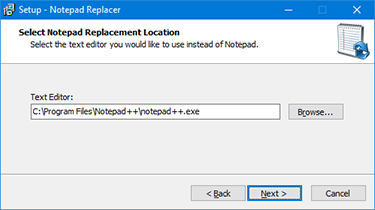 It's super-easy to use, and works with every text editor we've tried. Best of all, it's completely free! Give it a try today, and replace Windows Notepad for good.