Version 0.5 of the ASP.NET ViewState Helper is now live. It has the most new features and bug fixes out of all the versions to date. Here's a quick rundown of the changes:
ViewState decoder window is now re-sizable
ViewState decoder window has been re-arranged to allow for better viewing
Now processes pages located inside frames
The markup size is now more accurate in relation to the pagesize and viewstate size
Removed the "Only check when URL changes" option, as it is the only option now
Added a "Check Now" option, to force a page check
Huge speed improvements while processing pages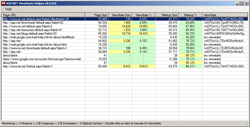 Thanks to everyone who submitted feature requests and bug reports through email and the Discussion Forum, you made this version the most improved yet! It is much faster than the previous version, and now processes pages inside frames - fantastic! Go and check it out today - it's worth the 300k download.