| | |
| --- | --- |
| DisplayFusion will make your multi-monitor life much easier! With powerful features like Multi-Monitor Taskbars, TitleBar Buttons and fully customizable HotKeys, DisplayFusion will make managing your multiple monitors easy. | CheckCentral handles your email alerts & notifications for you. Simply tell us what emails to expect and when to expect them. We'll let you know when something needs your attention. |
| The best multi-monitor and Eyefinity wallpaper images, all in one place! Thousand's of hand-picked images, ready for your mobile device or multi-monitor computer. | FileSeek is a simple, easy-to-use file search utility that includes advanced functionality for power users too. Search through your files using simple text queries, or use regular expressions for complete control. You can even sync your search settings between computers. |
| ClipboardFusion makes it easy to remove clipboard text formatting, replace clipboard text or run powerful macros on your clipboard contents. You can even sync your clipboard with other computers and mobile devices. | iTunesFusion (formerly iTunes Sync) makes it easy to sync iTunes with almost any phone, tablet or MP3 player. Fast and easy to use, with customizable settings for power-users. |
| LogFusion is a powerful realtime log monitoring application designed for system administrators and developers. If you monitor log files, LogFusion is the tool you need. | Do you use a Notepad alternative, like Notepad++ or Notepad2? Notepad Replacer will allow you to replace the default Windows version of Notepad with whatever alternative you would like to use. |
January 5, 2015
When setting up an NVIDIA Surround or AMD Eyefinity display group, it's possible to also configure custom resolutions that compensate for the space between physical monitors caused by the monitor bezels. Starting with DisplayFusion 7.0, you can configure monitor splits to also compensate for the monitor bezels. The monitor splits allow you to have separate taskbars, wallpaper, and screen savers on each physical monitor, while still leaving Surround/Eyefinity enabled.
Configuring Monitor Splits to Account for Bezel Correction
The following steps are for the fairly standard setup of splitting a 3 monitor NVIDIA Surround/AMD Eyefinity group, aligned horizontally. If you've got a different Surround/Eyefinity setup, the same general steps apply, but you'll need to modify steps 2, 5, and 6 accordingly.
Disable the "Auto-Fill Splits" checkbox.
Use the "Preset Splits" button to select the 3x1 option.
Select each split, and set the "Width" values to the actual resolution of your physical monitor (not the bezel corrected resolution).
Click the "Show Preview" button.
Select the middle split, and using the "Left" box in the Location group, increase the value until you see the white line on the left side of the middle monitor.
Select the right split, and using the "Left" box in the Location group, increase the value until you see the white line on the left side of the middle monitor.
Verify that all three monitors have a white line on all four sides, then click OK, and OK again.
The video below demonstrates these steps on a Surround group that consists of 3 monitors at 1280x1024, with a bezel compensation of 50px between each monitor. The video was captured on a very wide resolution, so it's best viewed full screen with the quality set to 1080p or higher.
January 1, 2015
Congratulations to our top contributing members for December 2014! They have been hard at work submitting, rating, and discussing images on WallpaperFusion, and have racked up some impressive reputation scores along the way!
| | |
| --- | --- |
| Contributors | Jigsaw Puzzles |
Check out the current top members or look at previous months on our Top Members page!
December 16, 2014
Update: The sale is now over, thanks everyone!
We're very excited to announce that DisplayFusion 7.0 is now available for download! This release contains a huge number of new wallpaper providers, asymmetrical monitor splitting, monitor splitting support for Surround/Eyefinity setups with bezel compensation, Scripted Functions, and much more!
Holiday Sale!
All of our desktop products are on sale at up to 40% off until January 2nd!
Check out the holiday savings on DisplayFusion, ClipboardFusion, FileSeek, iTunesFusion and LogFusion!
DisplayFusion 7.0 Highlights
Tons of new online wallpaper sources: Current Weather, Current Time of Day, Astronomy Picture of the Day (APOD), Google+ (formerly Picasa Web Albums), Facebook, Imgur, Instagram, Pixabay, Smugmug
Monitor splitting support for Surround/Eyefinity setups with bezel corrected resolutions
Monitor splitting support for asymmetrical split layouts
New Remote Control feature allows you to run DisplayFusion Functions from your phone or tablet
New Scripted Functions allow you to create any Function you can imagine
The WallpaperFusion online wallpaper source now allows you to login and filter by your favourites and ratings
You can now rate and comment on WallpaperFusion images from the desktop right-click menu
New Functions for rolling up windows to the titlebar or icon
You can now choose a screen saver to use for the logon screen when no users are logged in
Support for Windows 10 Technical Preview
39 languages bundled (if you'd like to help translate DisplayFusion into your language, please contact us)
Many other performance, stability and bug fixes
Updating DisplayFusion
We encourage everyone to update to this new version today to take advantage of these improvements. If you've already purchased DisplayFusion, it's a lifetime license, so you can upgrade to this version at no cost! If you would like to see a complete list of all the changes, please visit the DisplayFusion Change Log. We'd like to send out a big thanks to the dozens of people who helped with the DisplayFusion translations, and the thousands of people that helped test the Beta versions. Thanks everyone!
Introducing CheckCentral
We're very excited to introduce CheckCentral, an incredible new way to manage all of your email alerts & notifications! As system administrators, we know the pain of having to wade through a pile of notification emails every day. Trying to set up some sort of system to deal with them within your inbox is a time-consuming and frustrating experience. Worst of all, there's no good way to deal with notification emails that, for whatever reason, never arrive at all. Perhaps a scheduled task on a server doesn't fire properly, and your backup application never starts to backup. That's certainly something you'd like to be made aware of! To handle that sort of scenario, CheckCentral brings intelligence to email notification management. CheckCentral will know what notifications to expect & when to expect them based on rules you set up. For more information, please see our introduction to CheckCentral!
DisplayFusion 7.0 Screenshots
December 15, 2014
We're very excited to announce 5 new Android apps for WallpaperFusion!
WallpaperFusion has so many amazing images, we wanted to simplify getting these great images, and make changing your Android wallpaper completely automatic. Just launch the app, set the timer interval, optionally select "Greyscale" or "Darken" and you're done! New images will be loaded automatically based on your settings, and your Android phone or tablet will always look amazing and fresh!
100's of wallpaper images per app
Configurable timer intervals
Automatic greyscale option
Automatic darkening option
Option to only load images over WiFi to save on mobile data charges
'Weather' and 'Time of Day' apps use your current location to give you relevant images!
No ads!
You can find the new apps here, enjoy!
Screenshots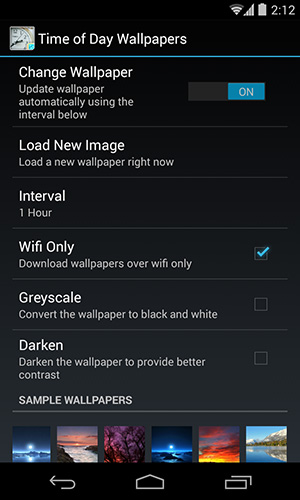 Time of Day Wallpapers for Android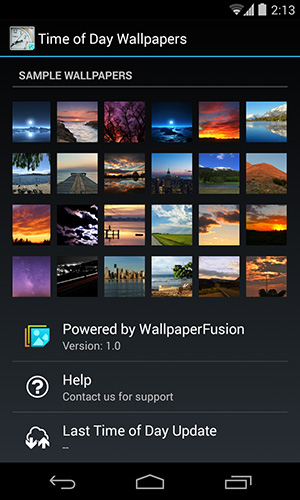 Time of Day Wallpapers for Android
Page