Over the next few weeks we'll be rolling out updates to the Support Forums for all Binary Fortress product pages. The FileSeek and LogFusion pages have already been updated!
Update: all Discussions have now been moved! You can view a list of the new Discussion area here: http://www.binaryfortress.com/Forum/
We're pretty excited about the changes, but here are some things you should know:
The new Support Forums will be called "Support Discussions" and will replace the old Support Forums
Support Discussions pages will be integrated into the individual product pages, listed under the Support menu
Your account will be integrated with DisplayFusion Online, so you'll have one less password to remember
Your login email address will remain the same as the old Support Forums, but you'll need to set your password using the "I forget my password" link before logging in for the first time
Your profile image will use Gravatar
All existing topics and posts will be imported into the new Support Discussions
Your current alias and post count will be imported into the new account
Once a product page has been updated with the new Support Discussions, the old board will be redirected to the new Support Discussions page
We'll be updating each product page individually, with DisplayFusion being the last one to get the update. If you have any questions, concerns, or feedback, please don't hesitate to Contact Us.
Thanks!
The Binary Fortress Team
We're very pleased to announce the release of DisplayFusion 3.3.1! This version includes a bunch of bug fixes and new features, as well as huge improvements to the Multi-Monitor Taskbar and Window Snapping features.
The biggest changes in DisplayFusion 3.3.1 include:
The Wallpaper Settings window now has an "Image Info" tab that allows you to display information about the wallpaper and your computer directly on the desktop
You can now run HotKeys on a window by right-clicking any TitleBar Button and choosing the HotKey from the context menu
HotKeys/TitleBar Buttons are now available for locking the mouse cursor to the current window or monitor
Added a new feature called "Sticky Snapping" which allows windows to be snapped to other windows or monitor edges without having to release the mouse button
Added an option to display a ToolTip that shows the window size and location on windows when moving or resizing them
Lots of minor improvements to TitleBar Buttons, Multi-Monitor Taskbars, and Window Location features
30 language translations bundled
Tons of other bug fixes and improvements to various features
For your viewing pleasure, here are some screenshots for a few of the new features in DisplayFusion 3.3.1:
We encourage everyone to update to this new version today to take advantage of these improvements. If you would like to see a complete list of all the changes, please visit the DisplayFusion Change Log. We'd like to send out a big thanks to the dozens of people who helped with the DisplayFusion translations, and the thousands of people that helped test the Beta versions. Thanks everyone!
We're currently in the process of finishing up development on DisplayFusion 3.3.1, but there are a few translations that still need to be completed. We're offering up a free DisplayFusion Pro license for anyone who can help complete the translations for the languages listed below, and we'll also list your name in the credits on the DisplayFusion Languages page. If you'd like to help us out, please contact us at support@displayfusion.com and we'll be glad to get you setup as a translator for DisplayFusion!
Croatian
Czech
Finnish
Greek
Portuguese (Brazil)
Slovak
Thai
Thanks everyone!
Please join me in welcoming our newest team member, Keith Lammers! Keith is our first full time support/testing/everything else person, and he's coming on board at a busy time. We have tons of new things planned, including some big surprises, and Keith will be an important part of making these things happen. Keith brings with him years of IT support experience, including hardware support and software testing. He's a top-notch, well-rounded guy and I couldn't be happier to have him join the team. If you see Keith in the forums, make sure you say hi and help me welcome him to the team!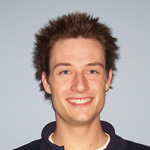 Welcome to the team, Keith!